About Westdale Florist
Westdale Florist is a flower shop run by Rosanna Yeomans in Hamilton, ON.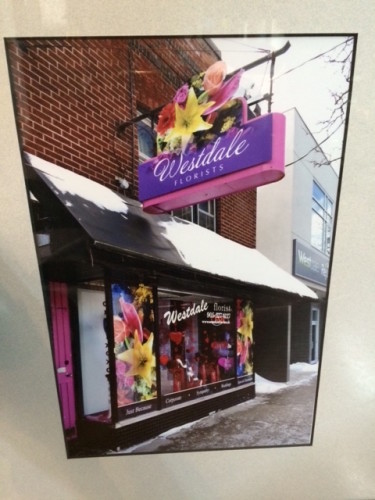 Westdale Florists has been offering the Hamilton, Ontario area superior
floral arrangements and assortments since 1946. Because we are
family-operated, when you choose us, you can always expect to be treated
more like another family member and less like "another customer".
Our deep passion for flowers, along with our dedication to service,
makes us the ideal choice for any occasion!
Westdale Florists has been at the same location for more than
50 years, making it the oldest flower shop in the Hamilton area.
Located in the Westdale neighbourhood of Hamilton, we continue the
tradition by offering exceptional service, distinctive floral
arrangements, and high-quality flowers.
Whether you are looking to brighten a room, lift a mood, ease a heart, celebrate a
special occasion, or create the perfect ambiance for that memorable
wedding day, our staff are dedicated to providing you with the perfect floral solution.
As a reflection of our dedicated excellence, Westdale Florists has been
recognized for rewards and honors…
2015 "Award of Excellence" by the City of Hamilton
2007 "Recognition of Outstanding Service" by The Hamilton Spectator
The Faces of Westdale Florists


Rosanna Yeomans - Owner

Rosanna Yeomans has been working with flowers for 35 years and counting. Rosanna is widely renowned for her extravagant wedding arrangements and visually stunning bouquets. No matter the occasion, our customers can always expect unforgettable floral solutions from Rosanna.Leave it up to her to make your arrangement an unforgettable one!

Years of Experience: 35 years
Favorite Flower: changes every day!

Interests:Family, weddings, and her puppy


Matthew Yeomans - Co-Owner

Matthew Yeomans has been working with flowers ever since he and Rosanna were wedded. Matthew strives to ensure complete customer satisfaction. Need help selecting the perfect arrangements for your occasion? Perhaps you have a question about the upkeep of your purchase? Matthew's got you covered.

Years of Experience: 25 years
Favorite Flower: Roses
Interests: His Sports Car, Visiting His Cottage, Eating Out

David- Floral Designer



Born in Belgium, David brings a European touch to our store with his fancy accent!

Newly settled in Canada after studying floristry in Australia, he now calls Hamilton home.
He is passionate about flowers and loves to travel the world to see where they grow.

Years of Experience: 4 years
Favorite Flower: Irises and Leucadendrons
Interests: History, traveling, meeting new friends

Bailey- Floral Designer




With her energy and her many talents, Bailey might be the youngest of the team but we look up to her.

Inventive and efficient, you can rely on her stunning style and her tasteful colour combinations to create the perfect arrangement for you.
She also has a fantastic taste in music!

Years of Experience: 5 years
Favorite Flower: dahlias and sunflowers
Interests: sailing, music, cabinet making


Traci - Floral Designer




Traci has been designing flowers for 11 years and climbing. Traci specializes in designing beautiful tropical and exotic arrangements. Looking for something memorable and unique? Ask Traci to design your next arrangement and prepare to be "wowed"!


Years of Experience: 11 years
Favorite Flower: Peony
Interests: Her Children, Baseball, Literature

Anne Marie- Floral Designer






You might have seen her talent on display in Toronto or in Hamilton, at the Juno Awards or the Art Gallery, or at your best friend's wedding. From the mansions of Burlington and Oakville to the first loves of

Hamilton's youth, Anne Marie caters the floral needs of everyone. If you need a modern bouquet for a dazzling evening, Anne Marie will
help you impress anyone!

Years of Experience: 25 years
Favorite Flower: Ranunculus and Lilacs
Interests: Family, Dancing, Yoga

Cecil-Floral Designer




You might have seen her on her daily travels around Hamilton and beyond: Cecil is our Customer Contact Specialist. From confidential deliveries to detective work, she makes sure that flowers get delivered to the right hands, and she won't rest until the job is done!



Years of Experience: 19 years

Favorite Flower: Lilacs

Interests: Cooking for her children and grandchildren, holiday travels, and good wine

Our Specialty Services Include:

✓ Sympathy & Funeral Arrangements
✓ Arrangements for Weddings & Proms
✓ Holiday Arrangements
✓ Hand-tied Bouquets
✓ Gourmet & Fruit Baskets
✓ Exotic/Tropical Arrangements
✓ Excellent Customer Service
✓ Free Consultations